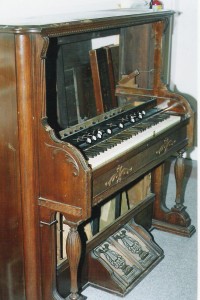 One of the display items at the Mennonite Heritage Centre on Pickwick Drive of Leamington is a pump organ donated by Gerhard and Gay Wiebe of Essex, Ontario.
This instrument was manufactured in Guelph, Ontario in 1898 and purchased from an unknown source in 1930 by my Grandmother Anna Wiebe who had come to Pelee Island with her children John, Anna, Ewald and Mary in spring of 1925.
My Grandpa and Grandma, originally from Tiegenhagen, had moved to Kuruschan, Molotschna after their marriage; here they had 80 milking cows and a cheese-making operation. Grandma was the area's midwife. During the difficult times in the 1920s, their home had been ransacked regularly and my grandfather Gerhard Wiebe died of Typhus in 1922. One day Grandma asked a young herdsman to accompany her to the farm well. Here she removed the golden earrings from her pierced ears, dropped them into the well and said, "One day, when our country is at peace again, you and I will come to this well and I'll ask you to retrieve my earrings!" That day never came, but many years later, when Grandma was bedridden with Parkinson's Disease, we children would sometimes inspect her ears to have a look at the holes in them. Pierced ears were unheard of when we were children.
Back to Russia. In 1924, my Grandmother left behind her oldest son and daughter-in-law, and the graves of her husband and three children. She and her four teenaged children came to Kitchener, Ontario, Canada where they were lovingly hosted by Isaiah and Jemimah Witmer. My mother Anna, 17 years at the time, remembered Grandma explaining to them that when they came to Canada, they would need to put all thoughts of Russia behind them and concentrate on making a new start in the new country. Once that was accomplished, she said, they could reminisce.
In the1940s, the Wiebe pump organ was used in the Mennonite place of worship on Parson Road. The house on this farm was occupied by four different Mennonite families by turn, namely tbe Konrads, the Willms's, a second Willms' family, and lastly, my Uncle John Wiebe. My Uncle George Wiebe, who had come to Canada in the 1930s, was organist. By the late 1940s, most Island Mennonites had moved to the mainland. Eventually my Uncle Ewald Wiebe brought the organ to their home on Highway 77, near Staples, Ontario. After his death, his son Gerhard Wiebe moved the organ to his home in Essex, Ontario, and in 1998 Gerhard and Gay donated the organ to the Mennonite Heritage Centre on Pickwick Drive of Leamington, Ontario.